YAY!! IT'S FRIDAY!!! I am so glad for the weekend! We have a football game down here and it should be fun. We are playing UK, so it is a runaway win. I don't know if we will stay the whole game. I just want to see the Eagle fly - it's my favorite part of the game. As of now, the rumor is that we are going to go to the SEC championship! Hooray! It will be so much fun, and hopefully we can get tickets. They do a lottery for student tickets, and I am already keeping my fingers crossed.
As I said before, I joined the bear along (like I really need another WIP). And, Aiden needs something homemade for Christmas. So, I think I am going to crochet this one for him.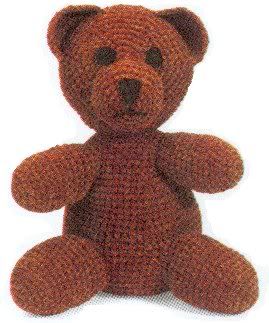 It's from Lion Brand's website and it uses the chenille yarn, which I think will be super soft and it will work up really quickly - I have way too many gifts to make. I really want to knit this one.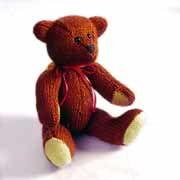 But, I am worried about time, so I'll make this one once I finish the rest of my Christmas gifts.
Philip and I went to a party at his advisor's house the other night and some friends of ours brought their baby. I hand knit a blanket for them (the last blanket that I will ever knit unless it is for my child) and it looked so good! I was pleased that it was holding up well. It fit perfectly over her when she was in her carseat. So yay! I am so glad that I made something and it is holding up well!!
Philip and I are going to Columbus this evening so I can get some needles to start on his stocking. I just want the company so we are going to eat dinner over there. It will be busy around here tonight whenever people start getting into town.
Have a great Friday everyone!
Happy Knitting and WAR EAGLE!