It's finished! I just finished up the collar. I do need to put the zipper in, but I am going to have my mom do that when DH and I go to Atlanta this weekend for our neighbor's Bat Mitzvah (It is either Bat or Bar - she is a girl, and I never remember which one it is!) I have never been to one before, so I think that it will be an experience. I have babysat for her since she was 9 months old.
I am so proud of the cardi! It is actually my first sweater ever! I have been knitting a year, and I haven't done one. I think socks and other things took precendence. But, I love it!!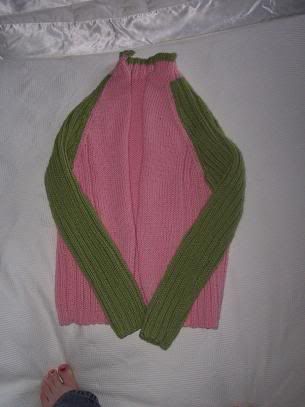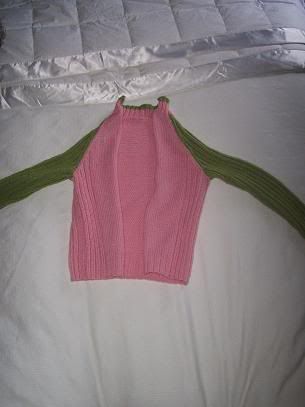 Pattern - Ribby Cardi
Pattern Source - Chic Knits
Yarn - Elann Highland Wool - New Leaf (sleeves) Dusty Rose (body)
Needle Size - 6 and 7
Other Notes - Overall, I think it was an easy pattern to follow. I used the mock turtleneck for the collar. I am going to wait until the zipper is put in, but I might add on to the sleeves and just do a rolled edge if they feel to short. But, overall, I am really really pleased with it! I also have 2 extra balls of the dusty rose, and my gauge was right, I think I just over bought!
But, tonight is the night of the big big game! WAR EAGLE!!!!! We are having friends over for mexican to watch the Sugar Bowl. Hopefully, we will win and be 13-0. Unfortunately, we got the shaft and we should have been in the Orange Bowl, but I'm not bitter.
WAR EAGLE!