Ta da!! We have another FO!! Yay for me!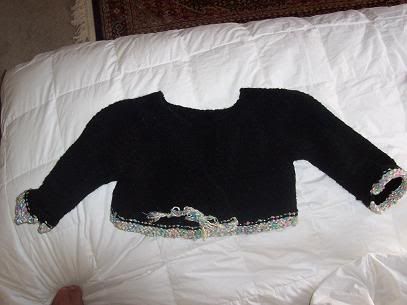 So, it doesn't look to much like the actual minisweater, but it is the idea. I didn't take a very good picture of me in it, so I will have to get DH to take a picture of me in it. I wore it today and I am really pleased with it. It didn't take too long, and it is always so fun to get compliments on something you made!
But, I have some very very exciting news! Auburn now has a LYS!! I stopped by there today to check it out. I think she just opened last Saturday, but she doesn't have a lot of yarn yet. I am hoping that she will gradually build up more. She is going to be open Tuesday nights from 6-8 for knitting. Even though she doesn't have a ton of stuff now, I really want to try and support her so she can get better stuff. I'm just so thrilled to have a local resource. The closest LYS is 45 min away. Now, I know that is not too far for a lot of people, but it seems like a ways away when it is in a different town. Ok, enough about that.
I found out on Friday that we may be here until December. Philip has been told that he could graduate in August, but his advisor thinks it is best that he graduates in December. Grr.... I was just so ready to leave and I feel like his advisor is keeping him here unnecessarily. He is going to continue to look for jobs and see what he can get offered and what is out there. So, we could be out of here in August. It is just so frustrating to not know. I'm going to finish in August (hopefully!). The only good thing is that we get one more football season, and the Alabama game is here! War Eagle!
I'm going to go and finish my swap scarf tonight - finally! It has taken me what seems like forever to get it done! I know I have been working on other things, but I need a break from it! But, it looks great and I think Kathy will really like it!