FO Alert! I finished ONE of the socks out of the Opal sock yarn Wendy gave me. I used the Broadripple Pattern from Knitty.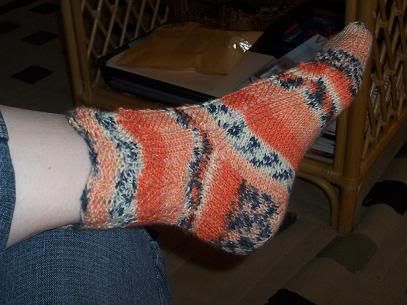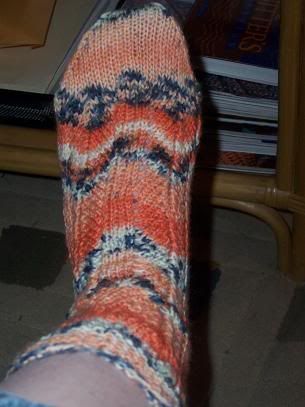 Aren't they cute?! I think they are one of my favs I have done so far. They fit fab, much better than my CL socks.
I broke my semi yarn diet yesterday. I went to the Knit Shop yesterday in Montgomery and got some sock yarn for my sock pal. I had some really fun yarn in my stash, but she wanted some blue socks, so that is what she shall have!
That is about all the knit news for now!
The weather has been super gross here for the past couple of days. It is all rainy. I finished my lit review for now and sent it to my major professor. It is 40 long pages. I have a meeting with Jackie tomorrow and hopefully she will tell me that I can stop now and I can move onto editing my Intro and hopefully propose sometime in the near future. Then comes the Results and Discussion section and defending, but one step at a time.
But, I am off to eat, clean up a bit, and then go to the lab before dance class tonight! Have a great Thursday and I hope your weather is prettier than mine!