Happy Belated Valentine's Day!
I have been so super busy lately, it is amazing. School and work have kept me super busy. I had a great time in Atlanta on Sunday/Monday. My friend loved the fuzzy pink hat I made. Mom and I also got to spend some quality time at Nordstroms - I love that place!
We had a great V-day. I made scallops and white wine sauce with angel hair pasta. It was fab. It was nice to stay in and not have to brave all of the crowds out at the restraunts. Philip got me a box of Godiva - yum! It was a box of the limited edition chocolate from the G collection. It is just so darn cute - I love it. I don't wanna eat it, but I have to by the 22nd - something about expirations on this type of chocolate.
But, I got a package from my SP yesterday! I have such a great SP! I love all of the yarn! She also sent a cute pink bracelet, 2 bath flakes from Sephora (as you will notice one is missing some because I used it last night - it foams!), some fun rose petal bath soaps, and a fun card. I love the bamboo pink and brown ribbon yarn. There is a pattern in the new Knit.1 that I think I might want to knit with it - I'll have to order some more of it thought. But, I'm still debating what I will do with all of it! It is so fun!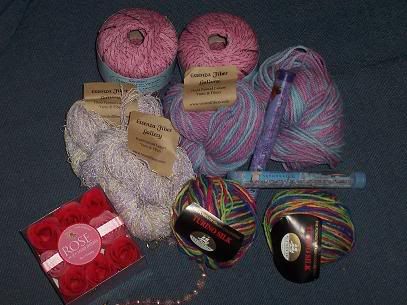 Check out my progress on the baby blanket. I've got about 9 more inches to go and the hood to do as well. I told April that Kyle can't come home until I finish his present. We will see! I'm pretty proud of myself for getting it done so far. Knitting blankets is not my favorite thing. I have to really like you to make one for you.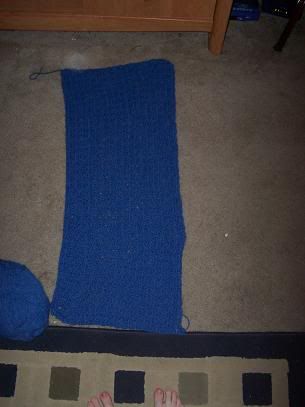 I'm working on a couple of little things for some RAOKs! They are going to be pretty darn cute - I just need to sit down and finish them up.
I have been cleaning like a mad woman this morning because my apt was DISCUSTING! So, I'm going to head back to that after a little break. I've got to work in the lab this afternoon, so that will always be a fun experience!
Have a great Wednesday!