Check me out!! A pair of socks!! I am so so excited! These are my sockapalooza socks and they are definately done before the deadline! I am really pleased with how they turned out. I hope my sock pal will like them!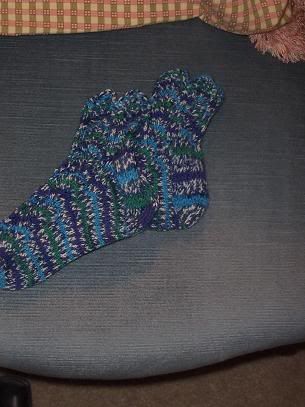 But, I had a great day yesterday. We ended up going to Montgomery instead of Bham, so I didn't get to go to the LYS up there. Darn! Maybe another time. But, I did pay a visit to GAP to get some great Khakis. I love their new pretty khaki add. Mainly because so much of the stuff is pink, but it is still fun. It is so sad that you have to go almost an hour away to get to decent shopping, and it still isn't Atlanta.
But, what did I find when I got home last night?! My Rowan yarn for my Lucky Cardi Wrap. As tempted as I was, I finished my other sock and then cast on for the cardi last night. Check out my progress! I am really enjoying knitting it, it is taking all I have to study for my test and not work on it. I really could be a bit farther, but I have had to take several rows out. Decreasing the sides and working with the pattern was a bit difficult, but I have just had to go by sight instead of by the directions. Thank goodness for the chart. It has made things a lot easier. It has been trial and error, but I am really pleased with my progress so far. I love the color (of course!), and I am in love with Rowan cotton yarn.
I got a lovely email from my SP saying that I had a package! Unfortunately, the UPS man didn't leave me a note to say he had one, but I got it on Friday and it totally made my day! She sent me some lovely chocolate from the world of chocolate. I love love it. Thank you so much SP. I love it.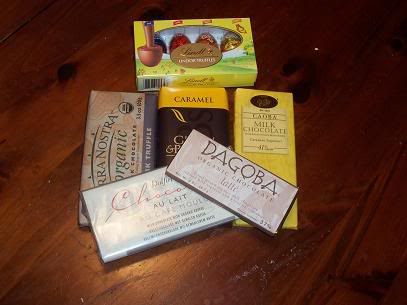 I am a lucky girl and I have 2 SPs. I'm helping to organize the Knitters Rerview SP, so I have a KR pal and another one. The KRSP exchange goes on until December with a bi-monthly exchange, so I will have one for awhile. So, it should be fun!!
Ok, I need to get to studying for my silly test on Tuesday and try and resist the call of the Rowan yarn that is sitting within arms reach. Maybe I should go and move it to another room!