My First Spinning Adventure!
I had so much fun! Leanne was very nice and a great teacher, and has been spinning for over 30 years. She is very knowledgable and I know I am going to learn a lot from her. I, however, am not a great spinner yet. It definately takes some coordination and getting used to the way it all works together. But, I really enjoy spinning.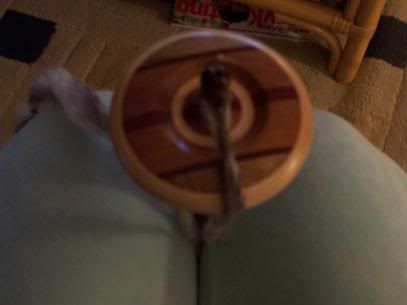 Here is my spindle. She taught me how to spin on a bottom whorl. She said that it was easier to learn because of where the weight is.
Here is what I have spun so far.
On my spindle.
On her spindle. It is a lot heavier, and it helps keep some of the weight down.
The hardest part is not loosing the twist. I finally figured out how I needed to wind it so I didn't loose the twist. I'm also having trouble with some coordinating of when to draft and when to twist. I have some spots that look ok and then I get a bunch of slubs. Practice makes perfect I guess.
I'm having great fun doing it! I know it is going to take me a lot of practice and I know I will want to get a wheel soon, but I think I have to be a bit patient and get the hang of it better.
I also didn't know how many different types of spindles there are. Leanne has some gorgeous ones. I am sure they are another thing that is very easy to collect.
I'm off to get a bit of housework done and spin some more!! Have a great day everyone!!