What a beautiful day! I love Spring in Auburn! I have spent a good bit of time on our patio drinking Coronas and reading and knitting, and unfortunatly writing some. But, I did get a paper done for class and the poster for our policy forum done as well. All in all, it has been a productive weekend. We are grilling salmon tonight - yum. Lime-Tequllia salmon - let's hope it is good. Philip is starting the fire. No more fires for Gracie.
I have been so good in resisting starting anything new. I am making myself finish my Peppermint Twist sweater. After a year of starting it, I am going to finish! Check out the progress.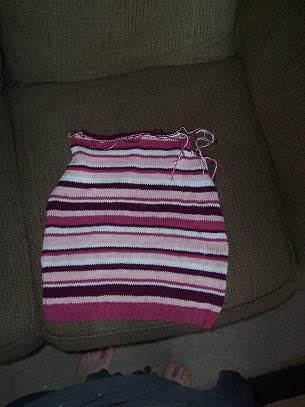 Front or Back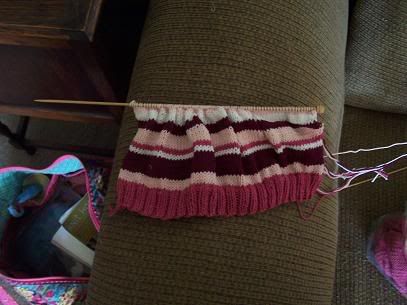 partial front or back
My mom came down this past week to bring me some pants and a coat that she made me. I adore having a mom that can sew. I highly recommend it. She also brought 2 of the dogs - Poco and Moses. Moses thinks that he was maybe a guinea pig in a past life. Lynard is similar in coloring to Moses, so we think that Moses thinks Lynard is a sheltie puppy. It is very cute. He will sit there and stare in their cages.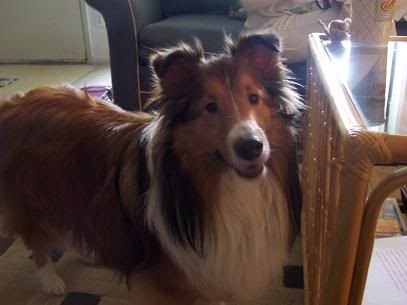 Moses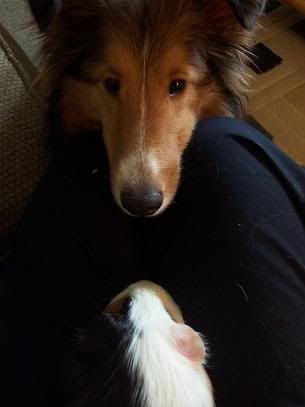 Moses and Lynard
It has been a really good mail week for me! I have been a lucky girl!
I got a great package from my KRSP!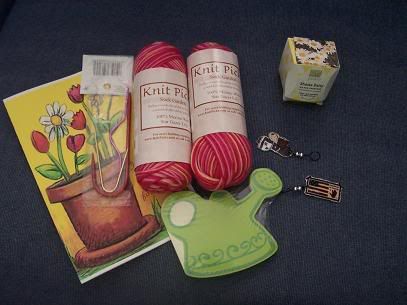 Thank you so much! I almost bought that sock yarn for myself! I love the colors, and it is going to be so fun to work with!
Deb sent me a mouse pad with a little note that will come in handy.
Cindy sent me some tres cute stitch markers.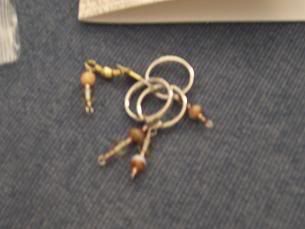 And, Leah sent me some sock yarn and some fun bath stuff. The muscle soak will def come in handy after dance class tonight! And, the little candle is just precious!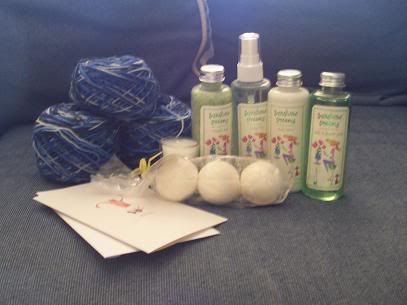 Thank you so much ladies! You were each so sweet to think of me - I'm so blessed!