Happy Memorial Day everyone! I hope that everyone has had a lovely long weekend. It was really yucky here today, so we were not able to go to the pool or the park like we wanted to. So, I took the opportunity to do some spring cleaning. Our back room (aka the junque room) was impossible to navigate around, so I set to work on that. I was able to purge and throw out a good bit of stuff that we have had for over a year and never used. I also organized all of our files. They are all nice and anally attentively organized. But the more exciting news is that I organized knitting patterns. I had a ton of magazines, and they were taking up space in our small apt, so I had to tear out all of the important stuff. So, now all of my patterns and articles are nice and neatly organized in it's own little plastic file with hanging folders. It was hard to throw out magazines, but it must be done.
So, I have a thoughtful husband that brought me these yesterday.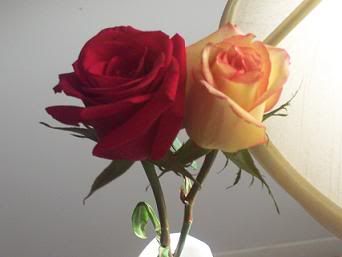 And, since everyone else is posting flower pictures, I thought I would too!
I also have a FO! The wine cozy that I was test knitting for
www.figheadh.com
It is really cute, and I like the way it turned out. So, go on over there and take a look at her stuff.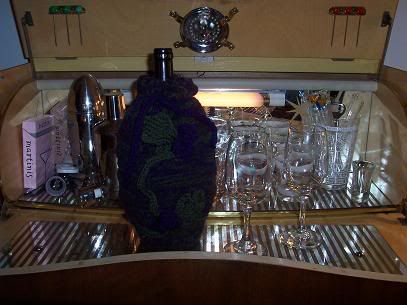 On the bar....
... and close up!