We're Back!
Hi everyone! We made it back from LA and Vegas safe and sound! It was a great trip but I am so glad to be home. We did a little bit of everything while we were gone. I had never been to either before, so it was nice to see Philip's stomping grounds from college.
We went to Caltech, where he went to college. It is a BEAUTIFUL campus. They apparently get millions of dollars a year from a grant for campus beautification. So, there are gardens and fountains everywhere.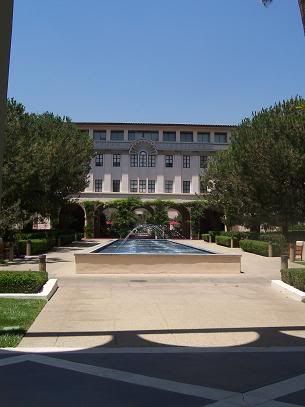 That is the Beckman Institute which is named after some really famous scientist. I have no idea who it is, but Philip assures me he was important enough to have a building named after him. They have a ton of Nobel prize winners that have taught or currently teach there, and most of the building there are named after them.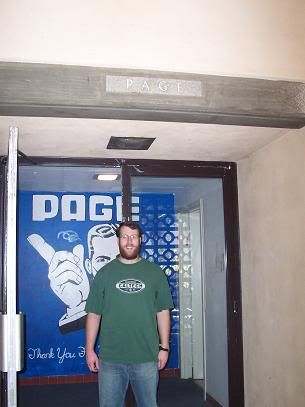 This is Philip in the front door of his house. The painting behind him is one that someone in the house painted. (The bottom says "Thank you for not sucking".) All of the walls in the houses are painted with various artwork. It is pretty neat, but some of them are a little wierd. They do the residental college thing out there, and you "rush" a house. Basically, they are a bunch of fratertities. I got the tour of most of the houses before they renovate a bunch of them.
We drove around LA and saw the sights. We saw Charlie in the Chocolate Factory in Groman's Chinese Theater. It was very very cool.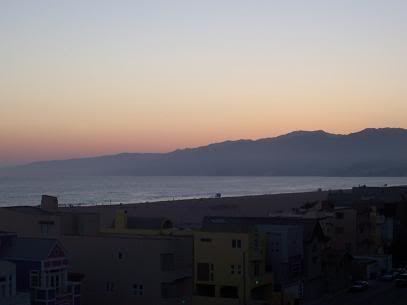 We also went to Santa Monica pier and saw the sun set.
And, we went and toured the Queen Mary, which was the sister ship of the Titanic. It was very cool.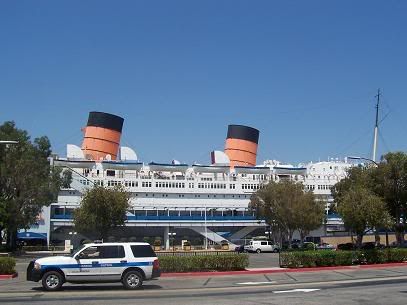 Then we were off to Vegas! It was great fun. I think there were about 13 of us. Philip's friend from Caltech came for the weekend and then some Auburn friends were there Sunday-Tuesday. We walked around and saw the various casinos, ate, slept, saw a show, Philip played poker, and I shopped. The shopping there is fab! I could not afford to buy anything but it was great fun to see Escada, Chanel, Celene, Louis, etc. And, who knew Jimmy Choo had a store all to himself?! Such cute things.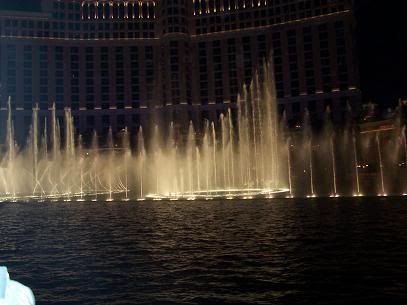 The famous Bellagio fountains. I felt like George Clooney was standing right next to me.
Tigers at the Mirage.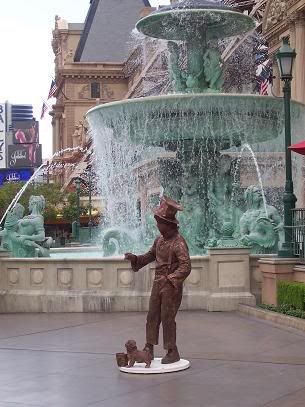 Street Performers at the Paris.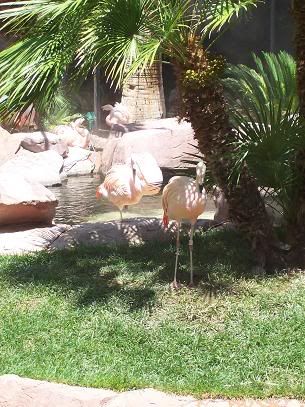 Pink flamingos at the Flamingo.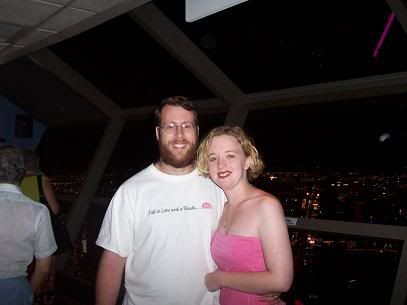 Philip and I at the top of the stratosphere. He rode the scary roller coaster at the top, but I was safe and sound inside.
That is the quick version of our trip! I was able to get a bunch of knitting on the plane out there, but I didn't do much while we were there. I made a ton of progress on the USMS. I've started on the back armholes. And, I even picked up the Lucky Clover wrap last night (aren't we all impressed?!). I also came back to a lovely package from my KRSP. I love it! Thanks KRSP! I'll take a pic of all of the goodies when the camera finishes charging.
Have a wonderful weekend everyone!!