I think I shall turn into a duck....
.... because it won't stop raining. It has rained here every day for the past week and won't be stopping for another week or so. My umbrella and I are going to get to be BFF over these next days. Thank goodness I work inside in an office!
I have been running around like a chicken with my head cut off lately (is that a Southern expression?). Unfortunately, it is not for my thesis! I've upped my hours in the lab from 20 to 30 and it makes a difference! I know I will be working more at a non-grad student job, but 30 with a thesis can be hectic! I've been training new grad students for the past couple of days and it amazes me how much I really have learned. It is funny to be a senior member of the staff and halfway in charge. But, when the thesis is done, life will be better! But on to more exciting things!
First, a package that is long overdue from my KRSP. I got it a few weeks ago, and I have been so busy that I keep forgetting to post a pic!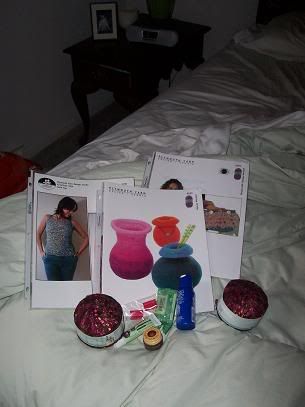 She sent some Plymouth Eros and a pattern (the tank top) to go with it, some gloves in a bottle (it's fab), some Burt's bees, a cute purse pattern and the fun felted vase pattern, some stitch holders. I love it!! Thank you so much KRSP! You spoil me so.
And, I got my final package from my SP5!! My pal was Yahaira from knitfix.blogspot.com. She has been the best!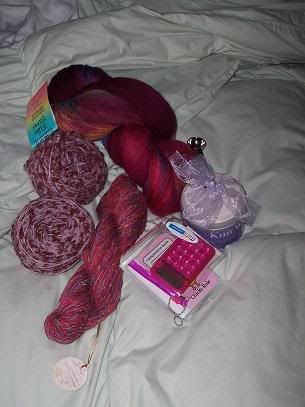 I love the wool - I think there is over 900 or so yards (at least that is what Philip says, its 1000 meters). It is destined to become Clapotis. Yes, I'm behind and haven't made one yet. The pink is from Knitting Fever and I think it is going to be Branching Out. She also sent some fab pink and white yarn, a notebook a calculator, and a CD with some Jack Johnson, Sarah McLaughlin, and good old Dave. Thank you so much! I love all of it!!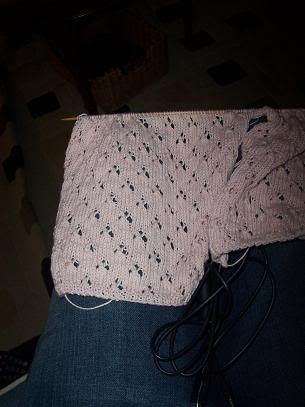 I'm still stuck on sleeve island. I have about 9.5 inches so far. I think I am going to make it 16.5 long instead of 17.5. But, I am really pleased with how it is turning out!!
Ok, I am off to run some errands! Have a great Wednesday all!!