Lucky Me!
Ta da!! It is done!! I am really pleased with the wrap. It is really nice to have it done!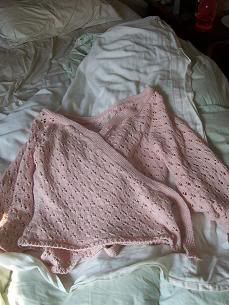 And the model shot....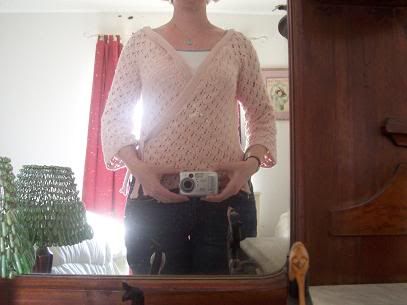 Project: Lucky Clover
Pattern Source: Stitch and Bitch Nation
Yarn: Rowan Cotton
Pattern Notes: It was a pretty easy knit, and the pattern went by quickly. If I knit it again, I would knit the sleeves a lot longer to make them long sleeves.
And, we have a finished sock!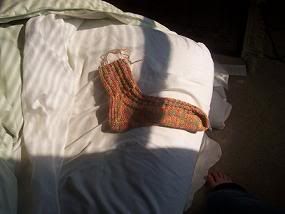 With the missing yarn, I'm a bit behind. But, I was able to get some more, and we are ok. I'm pretty proud of the pattern. It is the Blueberry Waffle Sock pattern from the sock knitters list. I really hope that my pal likes it!
I have been so busy with work that I have been meeting myself coming and going! But, the good news is that I am getting close to defending. I am finding it really hard to do the last little bit. I am getting tired of looking at it!
And, on a final note, I had some artwork published! I have done flowers for church, and they were recently published in an online exhibit. It is great fun to see it up on the internet.
ECVA