Back to our regularly scheduled program.....
So, I can't believe it has been forever since I have posted!! But, in exciting news....
WE BOUGHT A HOUSE!!
Yep! We were down in Mobile last week and looked at a bunch of houses (the market is going quickly) and made an offer. They accepted it last week. So, as long as the inspection, appraisal and loan goes through smoothly, it is all ours! Some pictures...
The front of the house.
The backyard. There is a lot of yard on the left of the pool, we just couldn't get a good picture.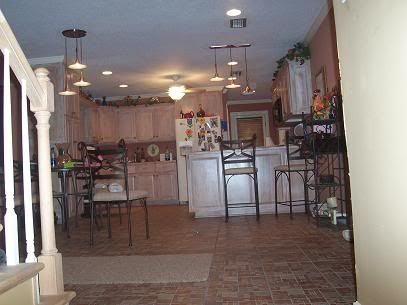 Kitchen! I am loving all of the space I will have!
Living and dining room.
Master bedroom.
It is 2300 square feet with 4 bedrooms. 3 are really usable and then there are 2 more rooms downstairs that we will use for a den and possibly a pool table. So, let's all keep our fingers crossed that it goes well! I am trying not to get too excited until we close.
I have been knitting a bunch as well. I finished my pal's socks...
I also finished my scarf swap pal's scarf, but I forgot to take a pic before I sealed it up! But, I am going to make one like it for myself, so I will have a picture of it sooner or later!
I also joined the fabulous Lolly's Socktoberfest! Here is my first sock so far -
I'm working on the other sock, and I will hopefully have it finished up soon!
I started on my mom's Christmas present wrap and it is looking really good. I'll take pictures of that soon as well.
Ok, I am off! Have a wonderful night everyone!!