A little buggy!
Thank you everyone for your well wishes after the accident. I am feeling like my normal self again.
They totaled out my car and I got much more than I thought for it. I went by today to get out the rest of my stuff. I was walking away from the car and the car guy said that I looked like I was going to cry. I nodded and walked on. It is amazing at how attached you get to things. I love driving and the freedom it brings. I loved that Jeep.
But, this is what came to live at my house!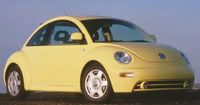 It is so so cute! It is not my Jeep, but I really like it. I am trying to get used to a small car. It was my cousin's car, she loved it so much and wanted a convertible. Philip and I went and picked it up yesterday.
I've been knitting a decent bit, and I finished the back of my USMS. I'll have pictures of it tomorrow if I can!!
Have a wonderful Saturday night!