It's such a thrill...
.... to be able to come home and not have to work on my thesis. I've decided that I am going to get so much more done now that I don't have to worry about it. I am so proud of myself and please that it is finally over. It's like no other feeling. Speaking of knitting.....
I finished my Socktober socks.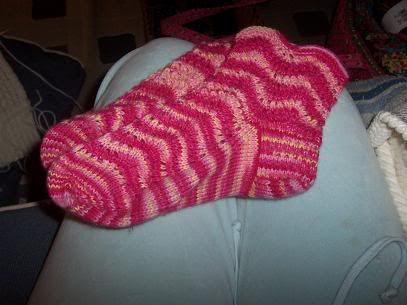 I used Knit Picks Sock Garden in Stargazer Lily and I used the Feather and Fan pattern from Socks, Socks, Socks. It was a really fast knit even though it took awhile to get them done.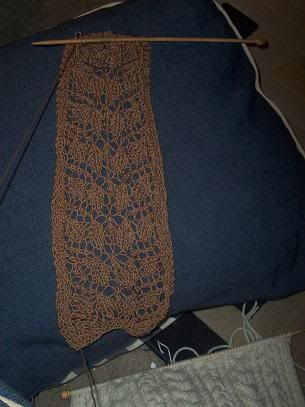 Branching out is coming along pretty well. It moves pretty quickly and I think I am def going to be able to get it done for my mom for Christmas. I'm thinking about making her a wee one more like a fabric scarf that she can use with oxford collar shirts and such. We will have to see if I've got enough yarn for one though.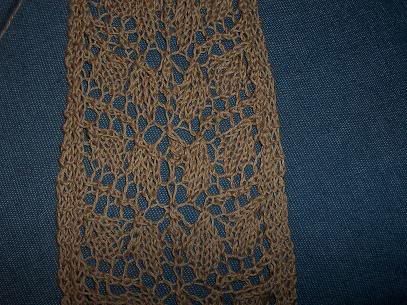 A closeup of the pattern, I think it is going to be even better blocked.
And, for the current knitting obsession - Grace. I was so good and proud of myself that I waited until I defended on Tuesday to start. Philip took me
here
for dinner and drinks. I then came home and cast on! It is simple ribbing for 4 inches, so I discovered I can knit a little buzzed (always a good thing to figure out).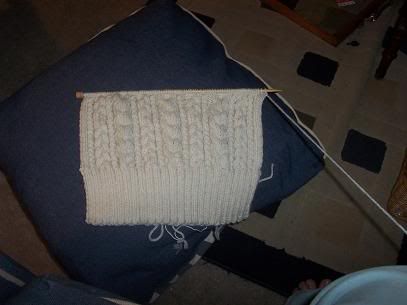 That is the progress that I have now and it is growing steadily as the evening passes. I would love to have a bunch of the back knitted by the end of the weekend.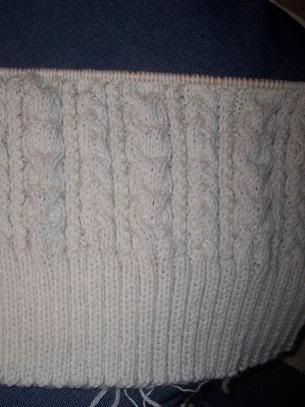 A closeup of the cables. This is my first big cable project and it is so much easier than I thought! Go check out
Amanda's progress
, isn't her's a fab color?
Oh, and in non-knitting but equally exciting news, I get to meet Paula Deen!!!!!! I am so so so excited. She is giving a cooking demonstration in Birmingham next Thursday and I got a ticket to go and watch her and get her new book. I'm really hoping that she will get to sign it. The benefit of having a sister that works for a book company. But, she is cooking with the proceeds benefitting Kings Ranch. So, if you are in the Bham area next Thursday check it out at www.kingsranch.org.
Ok, so a short novel later, and I'm off to do some cableing!
Have a great night!