Yarn makes me happy!
So guess what came yesterday and today?! That would be yarn and the pattern for Grace! I'm really excited about it and I can't wait to cast on for it.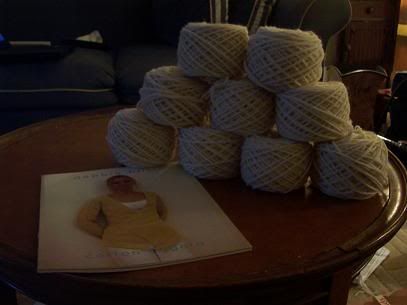 I'm using Elann's undyed Peruvian Collection Sierra Aran undyed yarn. I contemplated having a little dying adventure, but I decided just to leave it a natural color. I figured it would look great with a lot of stuff in my wardrobe. It is so super soft and I am looking forward to working with it. Thank the Lord for swifts - I've got 19 skeins to wind!
I've also joined the Branching Out KAL. I decided to make Branching Out for my mom for Christmas. I started out making her the crochet beaded wrap from Lily Chin's Knitting and Crocheting with Beads. I have since discovered that I HATE mohair. I know that hate is a strong word, and I don't like to use with yarn, but mohair is no fun to work with. Even if I mess up, I can't rip it out without getting a giant knot. Hence the new decision to work on Branching Out.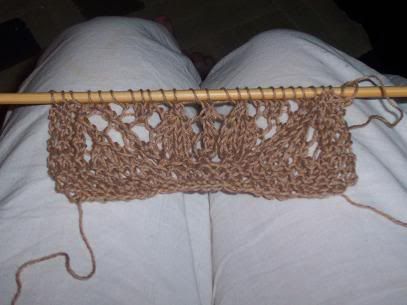 Thus the progress so far. I've had to frog it once and switch to bigger needles, but I'm pleased with it now. I'm using Brown Sheep Company's Cotton Fine that I had in my stash (I'm so proud - a stashbuster and Christmas project!).
That is about the excitement here! The guineas and I enjoying a few ESPN days while Philip is gone.