Finally off the island!
So, last night after Project Runway (loved the show!), I finally finished the sleeves to Grace!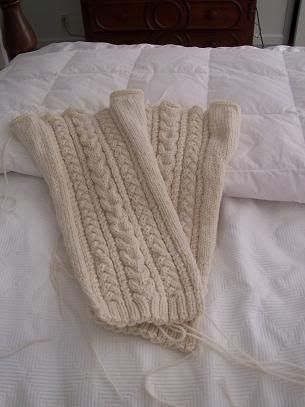 I think I may have to add a bit to the bottom, but I'm going to see once I block it. I may just add an inch or so of ribbing to the bottom. I'm pretty pleased with how they turned out, but sleeves always seem to take forever. Of course since it wasn't that late, I seamed the body of the sweater together and started on the collar.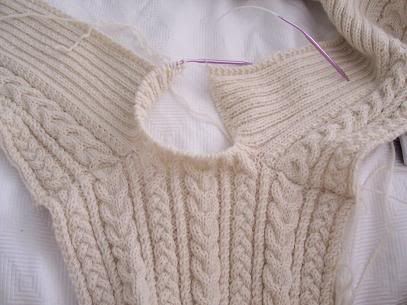 I am not sure if I am doing it correctly, but it is so far working out ok. Seaming was a bit easier than I expected because that clever Debbie Bliss made the cables line up exactly. However, I think if I were to do it again, I may do either the front or the back upside down to have a consistant cable because it breaks up a bit at the shoulder.
I'm hoping to finish it tonight (ok, prob this weekend!).
I've also been busy putting up crown molding in our bedroom.
I'm pretty pleased with how it looks and I have been painting it. It is such pain in the butt to get in between the pieces of the dental molding. It was actually pretty easy to put up, but it also helps having a husband who is good at math and hammering. It is out of that plastic composite, so it is super light and easy to hammer. The best part is that they make premade corners. I love shortcuts!!
And, finally, the Olive picture of the week...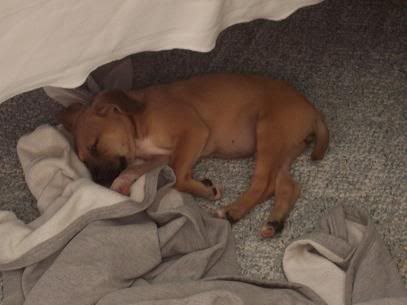 That is one of my Vanderbilt jersey blankets that she has adopted as her own. She has doubled in size the past week, she is now 9 pounds (we were at the vet today, not her favorite place).
Have a wonderful Thursday yall!