The First FOs of 2006
So, I finally finished the Christmas knitting. Yep, I'm a little late. Ladies and gentlemen here is what a flat flamingo looks like...
And, this is what a stuffed and eyed flamingo looks like ....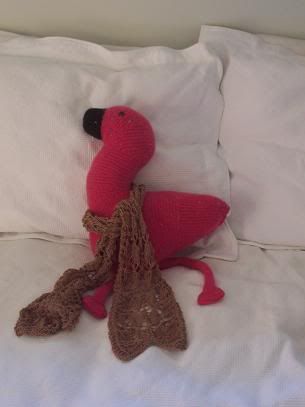 Pattern - Fiber Trends Pink Flamingo
Yarn - Cascade 220 in Flamingo Pink (2 skeins) and Black
Recipient - my sister
I am really pleased with it once I finally sat down to work on it. The only thing I'm not too happy with is the fact that it doesn't sit very well on its own, but that may be a function of my assemblage of the flamingo and not the pattern itself. It also turned out a bit bigger than I expected. I think it would be cute to adapt them to make it a bit more wee.
Oh, and that lovely scarf that is around her neck? That would be the completed Branching Out for my mom.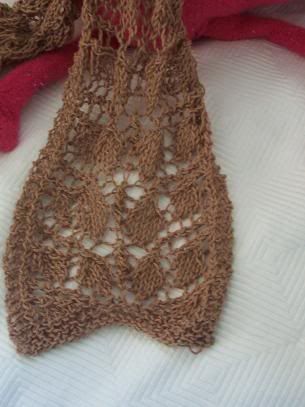 Pattern - Branching Out from Knitty
Yarn - Cotton Fine from Brown Sheep (I don't remember the colorway).
I really enjoyed knitting this. But, it was a royal PITA whenever I got off chart or forgot which row I was on. I ripped it back several inches several times. The next time I knit this, I will def be much better about keeping track of where I am in the pattern.
Have a lovely night everyone! ~ Skipping off with glee to make a cup of tea (ooo.. that rhymed!) and to work on Grace!