Happy New Year!
Happy New Year y'all! I hope that everyone had a wonderful New Year's Eve and is enjoying the day!
I finally have some pictures to post. I finally found the computer cord! That was a small victory for the day.
First, here is the new Doctor that now lives in my house.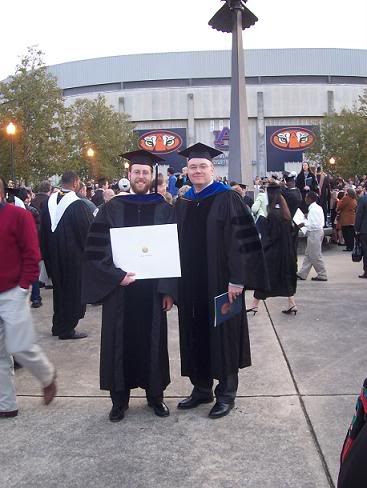 Philip's advisor is on the right. It was nice to see him be hooded, but the ceremony was LONG! Watching those undergraduates was almost painful. Not that I'm not happy for them but there were around 5,000. Way too many!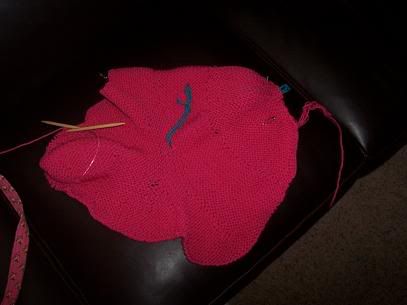 This is the sumtotal of my knitting the past 2 weeks. Oh yes, it looks impressive, but I have only done a little bitty bit. This is what a deconstructed pink flamingo looks like. I'm hoping to finish it up ASAP to give it to my sister when she visits this coming weekend. (Yes, it's a Xmas present. And I know it is late. We will just claim that I get it to her in one of the days of Chanukah and we will be ok.)
Instead, this is what I have been working on -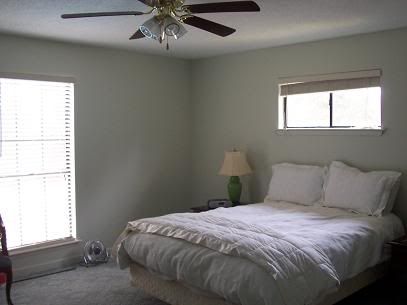 Unpacking and painting! I finished painting our room this week. The room is not at all finished. I still need some art on the walls and the headboard and footboard fixed and in place and such, but it is a good start. My dad is coming back after tax season is over with and is going to help us install wood floors upstairs. I'm way excited for that!! The color is a little hard to see, it is a greenish/blueish/grey called Scrim by Martha Stewart Paints. God Bless Martha. She has made the paint picking out process pretty idiot proof.
Have a wonderful holiday everyone!!
Watch out - the 2006 Knitting Related List will be next! I need to find my 2005 one, I wonder if any of it got done?!