L is for Landfill
Which is exactly where the pattern to my Union Square Market Sweater is. I was trying to be so good and keep my magazines and patterns organized by ripping out patterns that I may want to knit/like a little. I kept the full IK with the USMS so I wouldn't get the pattern mixed up. Bad idea. I threw the magazine out. It is nowhere in our disaster of and office. So, I will be placing an order with the lovely Interweave people to get another magazine.
In the meantime, I had nothing to knit. So what did I do? Three guesses.
Of course, I went out and bought more yarn because apparently I didn't have enough! Ok, so I have a lot of yarn, just not enough for a sweater. And, I just felt the need to start another sweater even though I have a bunch of other things I could have knit.
I apparently have a cardigan fetish lately, and I went to the store with the intention of purchasing Cotton Ease for the Sitcome Chic cardi. I've also discovered that it will get darn hot down here in the summer so to be able to wear things longer, cardis are going to be more versatile. I had a momentary brain lapse and I forgot they discontinued it. So, I found some Microspun. I'm normally not a huge fan of Lion Brand, but this stuff is so darn soft that I thought it was worth a shot. And, at $3 a ball, you really can't beat it. I also picked up the new issue of Creative Knitting (something I also normally don't do) because I really liked the cover sweater.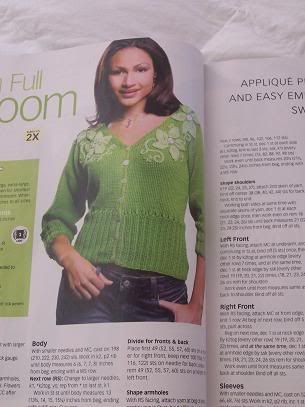 I decided to knit this instead of Sitcom Chic. However, I'm going to make some minor changes. I'm not going to make the arms quite as bulky. And, I'm also not going to do the flower details on the shoulder. I want to make it more of a basic sweater, and I think I will be able to wear it as a shirt as well.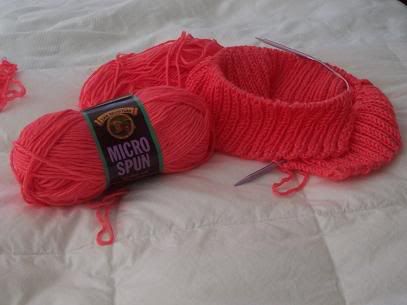 Here is the progress so far. The yarn does split apart some, but it is so soft that it is nice to work with. I think I will be making baby cloths out of this because it is so soft, cheap and you can wash it in the washing machine. It is a nice easy knit compared to the cables - I needed a brain break.
~~~~~~~~~~~~~~~~~~~~~~~~~~~~~~~~~
Yarn Aboard!!
Head on over to
Amanda's
blog and sign up for Yarn Aboard! It is a traveling box gift exchage thingy (yes, that is a technical term). The box will travel around the world (yes, the same box). You will receive the box with sock yarn and a few other small goodies, put some sock yarn and a few other little goodies in and then ship the box off to the next person. You will get the preferences of the other person, so you aren't just putting out random yarn. And, it is a one time deal! Sounds fun? Go sign up!!
~~~~~~~~~~~~~~~~~~~~~~~~~~~~~~~~~~~~~
Last but not least, another picture of Olive.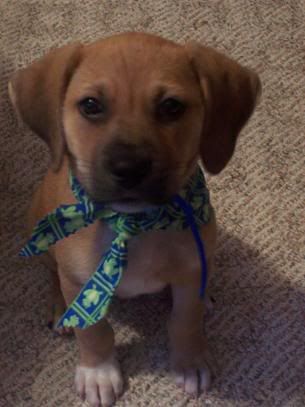 Have a wonderful Tuesday everyone!