A little lost..... on cable sleeve island
So, I'm stuck on sleeve island for another 15 or so inches.....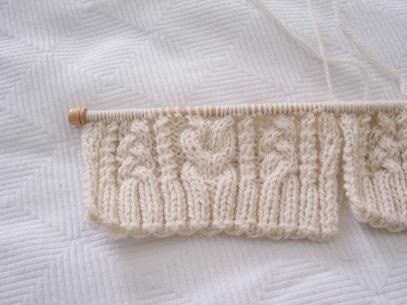 I've discovered there is a wee mistake in the pattern, and least I think there is, but I may be reading it wrong. On the sleeves, there is the large cable in the middle that when you are not cabling, you have to knit across 8 sts. Well, in the pattern there was no mention of the cables at all. And, using my logical skills, I figured that you had to cable to get the cable up the middle of the sleeve. So, I cabled. Just a friendly little warning Amanda and Leah - unless I'm way wrong, but it looks right! The nice part about the sleeves is that it is just a smaller repeat of what the body of the sweater is, so once I have gotten the first row done, I don't really have to rely on the book to follow along.
The good news is, that this means I finished the second half of the front.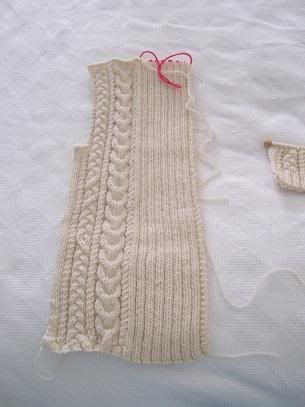 So, I've got the sleeves, collar and to seam it all up! Whew! Sounds a lot easier than it is!
And, smack me on the head and call me silly because it took until the very end of the second front to figure out that I should have learned how to cable without a cable needle a LONG time ago. It is slightly scary having 2 sts off the needle, but it is SO much faster. Silly me for not learning how to do this earlier!
Have a great Friday everyone!