Pee In Your Pants Excited
Today, February 2, 2006, I came across the best thing to ever happen to a knitter. As knitters and yarn hoarders, we rarely ever get this lucky. Perhaps, it never happens. I was lucky enough to stumble upon a 50% off everything in stock sale. Yes, 50% off! Olive and I drove over to Fairhope (a cute little town) on the other side of the bay to pick up a purse my sister had made for her. I looked up to see what yarn stores there were in the area and came across Debi's Little Yarn Shop. Well, I couldn't find it and eventually called and found out that it was in a studio behind this woman's house. When I got their her husband let me in and said they were shutting the business down. I said that I was sorry to hear that and asked if any of the yarn was on sale. That my friends is when he told me that the whole store was 50% off. I thought I was going to hyperventilate. I went and got Olive and we spent awhile in the store shopping around. Here is the haul....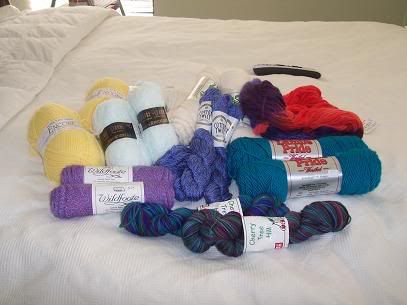 I didn't get as much as I should have (I think I may have to go back) but I got a lot of stuff for babies, I've got several friends having them, and I needed some yarn. I got the cotton for me to make Sitcom Chic, 1 of the Cherry Tree Hill sock yarn is for my Sockapaloooza pal, and the other is for me or my Yarn Aboard Pal. And most of the rest is for baby stuff. All of that was $80 when it normally would have been $160. She didn't have as much sweater stuff, but a good bit of Cascade 220. It was so great. I still may go back......
I've gotten a good bit done on my coral cardi, I'll post a picture of it tomorrow.
Have a fabulous evening everyone!